There's nothing better than a fresh cup o' joe in the morning. Or afternoon. Or evening. Anytime you like to drink some brew, there is guaranteed to be a coffee shop in Cincinnati that suits your style. You could stop at one of the many franchise locations (which we love!), but why not support a local Ohioan by supporting small businesses and stimulating the local economy? Here's our list of the best coffee shops in Cincinnati!
Reality Tuesday Café
Once upon a time, there was a young adults' Bible study group that would meet every Tuesday night. They would discuss the Bible over a hot cup of coffee or tea. That group meeting inspired the ministers to purchase a storefront and open Reality Tuesday Café, names after Reality Ministries. Since 2001, they have been serving exceptional cups of coffee to the Cincinnati public, while also using their proceeds to support their ministry. The coffee is roasted by the Seven Hills Coffee, another local business. In addition to caffeinated beverages, they also serve pizzas, cold sandwiches, and salads.
Hours: Monday- Sunday 6:30AM- 7:00PM
Number: 859-261-4939
Carabello Coffee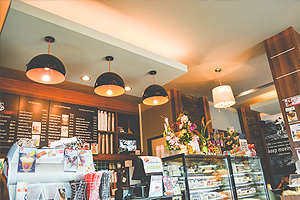 Carabello Coffee is not only a brick and mortar café, it's also the roaster for numerous restaurants throughout Cincinnati, a wholesale coffee distributor, and an educator of all things coffee. They created a variety of coffee blends that range from light to dark to flavored. All beans are sources ethically and under the Fair Trade agreement. The owners of Carabello also ensure that the farms the beans are sourced from are done so sustainably and ethically. A large chunk of Carabello's profit is put towards "works of compassion", helping others in the local and international community. The owners, 2 former public-school teachers, created Carabello to fund their mission of helping others. And boy, are we glad they did!
Carabello Café Hours: Monday- Saturday 7:00AM- 8:00PM
Number: 859-415-1587
Velocity Bike and Bean
Have you gone for a cup of coffee and remembered you need to fix your bicycle that broke last week? Same here! Thank goodness for Velocity Bike and Bean, your one-stop shop for a great cup of java and all your bike needs. They sell new and used bikes as well as offer repairs and tire inflation. The vibe inside is easily described as quirky and comfortable, providing the comfiest of seats to all patrons. The coffee is roasted and supplied with Carabello Coffee, so you know it's going to be delicious. Plus, every Saturday they have live music entertainment, and a gift shop full of interesting and quirky items. If you're looking for a great cup of coffee with an even great atmosphere, check out Velocity.
Hours: Tuesday- Saturday 8:00AM- 5:00PM
Number: 859-371-8359
It's no surprise that Cincinnati has so many awesome cafes and restaurants to choose from. If we missed one that you think deserves to be on this list, let us know on the Contact Us page!