Cincinnati is world famous for its vineyards and wineries. We have some of the lushest farmland and coolest winemakers in the United States. Luckily, you don't have to leave the city to drink wine on a farm; there are dozens of amazing bars in downtown Cincinnati that will leave you palette in awe. Alas, here's our list of the must-try wine bars in Cincinnati!
Liberty's Bar and Bottle
If you've ever wanted to feel fancy and high-class despite having holes in all of your socks, head over to Liberty's Bar and Bottle. Among the long list of wines they serve, 15 of them are available by the half-glass and full-glass. Plus, if go during happy hour (Monday- Friday 3-7PM) you can get a full glass of house red or house white for only $5. Feeling peckish? Order the meat and cheese charcuterie board, you won't be disappointed.
1427 Main St., Over-the-Rhine, (513) 429-2461
1215 Wine Bar and Coffee Lab
For a fun twist on wine tasting, head over to 1215 Wine Bar and Coffee Lab. You'll start with 3 glasses of wine on a flight, and a downturned notecard holding the answers. Take your time tasting, smelling, and swirling each glass, because you are a classy person who knows a lot about wine. Once you think you know what each blend is, flip over the notecard and validate your knowledge. Besides sampling, they have a full menu of wines available by the glass and bottle. It's best to go on weeknights because it gets packed with excited patrons on the weekend. Also, if you want to take your unfinished bottle home with you, there's no corkage fee on Mondays.
1215 Vine St., Over-the-Rhine, (513) 429-5745
Piccolo Wine Room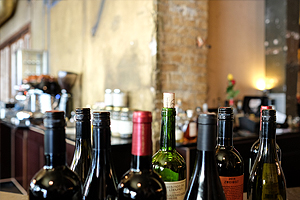 For a chic, fun, and trendy night out, you must go to Piccolo Wine Room. The minimalist aesthetic is begging to be the background of your Instagram picture (hello white tin ceilings and stemless glassware!). Choose from they ever-changing wine list on their chalkboard wall menu, and embrace the quirky bartenders small talk. You should also embrace the complimentary house-seasoned Bugles served at the bar. It's the perfect place to bring your date, your group of friends, or even go for a nightcap by yourself.
23 Village Square, Glendale, (513) 771-6612
The Cellar at Oakley Wines
The Cellar at Oakley Wines is one of the best-kept secrets of the city. You would never know from standing outside, that down in the basement of Oakley Wines is a quirky, classy, and trendy wine bar. The walls are repurposed with wood palettes and the light fixtures are made from wine bottles. Their wine selection is exceptional, but don't be scared to try one of their legendary cocktails or beers on tap. A special perk of chilling at The Cellar is that serve tabletop s'mores- you get your own mini campfire for the table! Also, you can choose any bottle of wine from upstairs, you just have to pay a small corkage fee.
4011 Allston St., Oakley, (513) 531-1400