One of the best ways to get better at your cooking-hobby is to take a class with a professional. Rather than experiment with trial and error at home, why not get a couple friends together and learn how to perfect your favorite dish? While you can buy a cookbook and do it your self, there's something empowering about following an instructors instructions in-person and being able to ask questions and clarify the steps. We've listed 3 awesome places to take a cooking class and improve your culinary skills.
Sur la Table
With locations all over the country, Sur la Table is a reliable and fun place to learn how to cook. Expert-level teachers share their passion for food and educating with classes of people from all walks of life. They provide classes for beginners, like Teens Cook: Fast, Healthy, and Delicious. As well as specialty classes like Meatless Mondays. Some other class topics are Macaroon Workshop, Date Night: Winter in Paris, Guilt Free Noodles, Sushi Party, and many more. Class prices range from $49-$79. Plus, you can shop and wander the aisles when your class is done!
Location: Rockwood Commons, 2673 Edmondson Road, Cincinnati, OH | 513-351-7444
The Learning Kitchen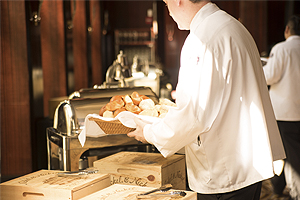 For a smaller group of cooking-enthusiasts, check out The Learning Kitchen in West Chester. The state-of-the-art facility provides a clean but still cozy atmosphere to cook in. Teachers share their passion through interactive classes where you're encouraged to ask questions and get involved. It's a perfect place to take your teens about to go off to college, or simply improve your own skills. They have exceptional reviews from past students and it's no surprise that many of them are repeat customers. Some of their most popular classes include Chicken and Waffles, Farm to Table, Date Night: India at Home, Hone Your Knife Skills, Gnocchi Workshop, and many more.
Location: 7659 Cox Lane, West Chester, OH | 513-847-4474
The Glendalia
The Culinary Studio at The Glendalia is truly a fun and enlightening experience. Located in this gorgeous bed and breakfast and event space, The Culinary Studio offers cooking classes in series-form. You can sign up for 6-8 week series that meet once a week to build upon skills you learn each week. It's the perfect excuse to see your friends every week and learn something new together. Some of their classes includeEverday Gourmet (best for beginners), Culinary Journey (fine dining with a twist), Bootcamp (learn everything from the basics to hosting a dinner party), and many more. Their location is also great for bachelorette party cooking classes or other special events.
Location: 11 Village Square, Glendale, OH | 513-376-9645
Cooking classes are an awesome way to bond with your friends, meet new people, and improve your culinary skills. If you've taken cooking classes at one of these locations, we'd love to know how it was! If you have class recommendations, experiences you want to share, or another cooking studio that should be on this list, let us know on the Contact Us page. We want to hear from you!