Cincinnati is so proud to home all our State University Students on multiple campuses. The task of providing delicious and budget-friendly dining options is not taken lightly! Restaurants and bars located in and around campus always strive to serve the best of the best for the millennial generation; here's our list of the best student eateries near campus!
Keystone Bar and Grill
For students coming from the South, there's nothing like some heavy comfort food to soothe your homesickness. At Keystone, they specialize in gourmet comfort food, from burritos to mac n' cheese. In fact, they serve 9 types of award-winning mac n' cheese. Other crowd pleasers are the Hangover Burrito and the Wood Potato Crisp. On warm summer days, enjoy your food on the outdoor patio sipping a cold beer. In the winter, the cozy and warm atmosphere inside is exactly what you need. The beer selection is extensive, and they also have a variety of wines and cocktails. Students swoon over the deli Scopus grub, and the attractive prices. Located 0.5 kms from campus.
Location: 249 Calhoun Street, Cincinnati, OH | 513-221-5397
The Elephant Walk
For an exotic taste of Indian food, you must go to The Elephant Walk. Only 2 blocks away from campus, it's the perfect place to thrill your taste buds and get your blood flowing. The menu provides a perfect selection of tapas and appetizers for big groups to share, and then lots of entrée options that are sure to fill you up. If you're vegetarian, you must try the Aloo Choley, the Bhindi Masala, or the Dal Makhani. They serve a bunch of different curries, but the staples are korma, vindaloo, and jalfrezi. Make sure you order a side of the homemade oven-fresh garlic naan so soak up what's left on your plate. The Elephant Walk supports local breweries by only serving Ohio beers. Students can get a deal during happy hour (Monday to Saturday 3-7PM) with $3 glasses of wine and $2 domestic beer cans.
Location: 170 West McMillan Street, Cincinnati OH | 513-526-1555
Adriatico's Pizza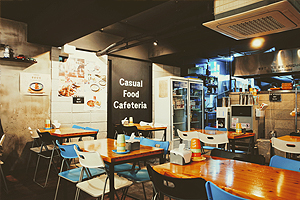 You may think you've had amazing pizza in Chicago or New York, but unless you've eaten in Cincinnati you haven't. They bake their own Sicilian thick crust dough, as well as a moist and calorie-friendly thin crust. They've got your usual toppings like pepperoni and bacon, but they also serve their own special combinations like the Inflation Fighter (pepperoni, ham, beef, sausage, green olives, black olives, green peppers, onions, and mushrooms). It's the perfect spot to grab a slice after class, or cater that keg party your friends are throwing. Adriantico's is budget-friendly and delicious- what more could you ask for?
Location: 113 West McMillan Ave., Cincinnati, OH | 513-281-4344
Just because you're on a budget doesn't mean you can't enjoy theluxuriously delicious food in Cincinnati. We listed our three favorite places on campus; if we missed a restaurant you think deserves to be on this list, let us know on our Contact Us page!